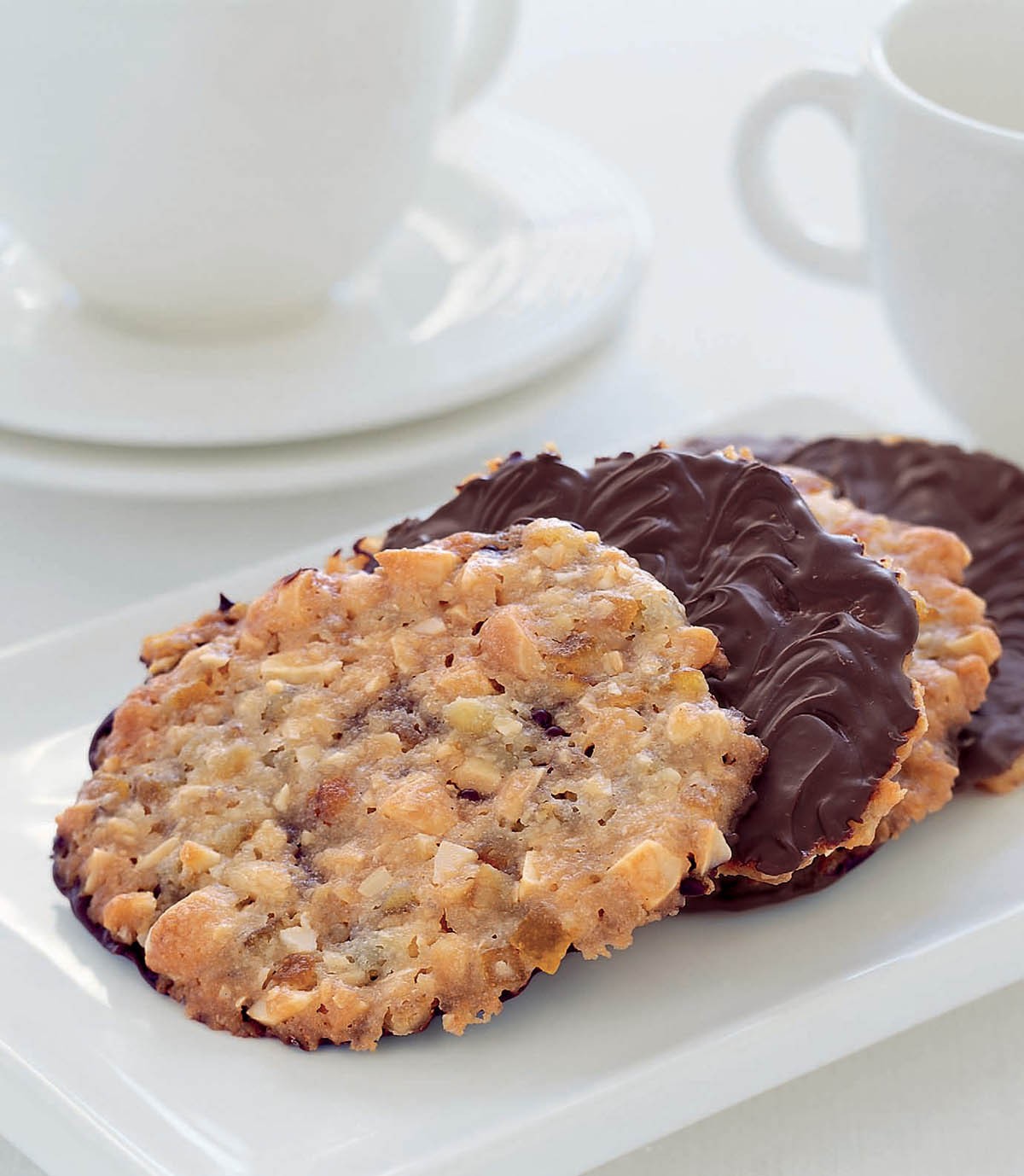 Appears in

Ingredients
55 g (2 oz) unsalted butter
45 g (1½ oz/¼ cup) soft brown sugar
2 teaspoons honey
25 g (1 oz/¼ cup) flaked almonds, roughly chopped
2 tablespoons chopped dried apricots
2 tablespoons chopped glacé cherries
2 tablespoons mixed peel
40 g (1½ oz/⅓ cup) plain (all-purpose) flour, sifted
120 g (4¼ oz) dark chocolate, broken into small pieces
Method
Preheat the oven to 180°C (350°F/Gas 4). Line two large baking trays with baking paper. Place the butter, sugar and honey in a saucepan and stir over low heat until the butter is melted and all the ingredients have combined. Remove from the heat and add the almonds, apricots, glacé cherries, mixed peel and flour. Mix well.
Place level tablespoons of the mixture well apart on the trays. Flatten the biscuits into 5 cm (2 inch) rounds, then gently reshape before cooking. Bake for 10 minutes, or until lightly browned. Cool slightly on the tray before transferring to a wire rack to cool completely.
Put the dark chocolate in a heatproof bowl. Bring a small saucepan of water to the boil, remove from the heat and place the bowl over the pan, making sure the base of the bowl does not touch the water. Stir until melted. Spread on the base of each florentine and, using a fork, make a wavy pattern on the chocolate before it sets. Let the chocolate set before serving.