Appears in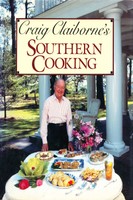 Ingredients
5 tablespoons butter
5 tablespoons flour
2 cups Chicken Stock
2½ cups milk
¼ cup finely chopped onion
¾ cup picked-over fresh or frozen crabmeat (about 6 ounces)
1½ cups corn kernels (cut from 3 ears cooked corn)
Salt to taste, if desired
Freshly ground pepper to taste
⅛ teaspoon cayenne pepper
½ cup heavy cream
Method
Melt 4 tablespoons butter in a saucepan. Add the flour, stirring with a wire whisk until blended.
Add the stock and milk, stirring rapidly with the whisk. Cook, stirring frequently, about 10 minutes.
Meanwhile, melt the remaining 1 tablespoon butter in another saucepan and add the onion. Cook until wilted. Add the crabmeat, corn, salt, pepper, and cayenne. Cook briefly and add to the cream sauce. Add the cream and bring to the boil. Simmer gently about 5 minutes.