Appears in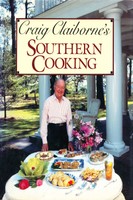 Ingredients
1½ teaspoons finely chopped fresh chilies, preferably serrano, although jalapeños could be used, stems and seeds removed
¾ cup rich chicken broth
¼ teaspoon saffron threads
2 tablespoons freshly squeezed lime juice
2 pounds yellow tomatoes (about 6)
3 tablespoons finely chopped sweet yellow pepper
5 tablespoons finely chopped peeled cantaloupe
5 tablespoons chopped, peeled, and seeded papaya
5 tablespoons chopped, peeled, and seeded mango
½ cup peeled, seeded, and finely diced cucumber
5 tablespoons peeled, finely diced jicama, optional (see note)
2 tablespoons finely chopped scallion(s)
Salt to taste, if desired
1 pound cooked, peeled small shrimp
1 tablespoon finely chopped fresh coriander
Method
Combine the chilies, chicken broth, saffron, and lime juice in the container of a food processor or, preferably, an electric blender. Blend thoroughly. Pour the mixture into a small mixing bowl and let stand for a minimum of 10 minutes.
Drop the tomatoes into a basin of boiling water and let stand 12 seconds. Drain immediately. Peel the tomatoes, cut them crosswise in half, and remove the seeds. Cut the tomato flesh into a very small dice. There should be about 2 cups.
Combine the tomatoes, yellow pepper, cantaloupe, papaya, mango, cucumber, jicama, and scallions in a mixing bowl. Add the chili-and-broth mixture and stir to blend. There should be about 4 cups. Refrigerate at least 1 hour. Season with salt, if desired.
Cut each shrimp crosswise in half. There should be about 1¼ cups. Roll the shrimp in chopped coriander.
Spoon equal portions of the soup into 4 to 6 chilled soup bowls. Garnish each bowl with equal portions of the shrimp.