Appears in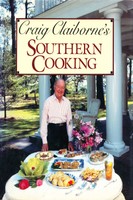 Ingredients
2 red snappers (2½ to 3 pounds each)
5 slices of bread
1 can (2 pounds, 3 ounces) Italian plum tomatoes, not packed with tomato paste
2 medium onions, finely chopped
2 large stalks of celery, finely chopped
1 small sweet green pepper, seeded and finely chopped
2 garlic cloves, finely minced
4 tablespoons softened butter
1 large egg
Salt to taste, if desired
⅛ to ¼ teaspoon cayenne pepper, to taste
½ pound shrimp, peeled, deveined, and coarsely chopped
18 oysters, coarsely chopped
1 to 2 cups water, as needed
3 bay leaves
Juice of 1 lemon
Freshly ground black pepper to taste
Extra ½ pound shrimp, peeled and deveined, optional garnish
Method
Preheat the oven to 350 degrees.
The snappers should be split and eviscerated, but not cut completely through. Heads may be cut off, but the final result looks better, and the juices stay in the fish more satisfactorily, when heads are intact. The fish may be boned, making them easier to serve, but this results in some wasted meat, and the fish will be a little less firm and flavorful. It is possible for the fish man to split the fish, leaving the bones in. Rinse and dry thoroughly.
Toast the bread, and when it has cooled slightly, crumble it to coarse crumbs, preferably in a blender or a food processor.
Drain the tomatoes, reserving the juice. There should be about 3 cups juice. Chop or coarsely break up the tomatoes and add to the bread crumbs. Stir in the onions, celery, green pepper, and garlic. Blend in the softened butter and egg. Season to taste with salt and cayenne. Stir in the chopped shrimp and oysters.
Spoon the filling into the fish cavities, using about two-thirds in all between the 2 fish. Sew the fish closed with heavy kitchen thread. If you have a pan large enough to allow both fish to lay flat with a little space between them, use it to bake the fish together. Otherwise use 2 open baking pans. (Oval, enameled cast-iron baking pans are especially nice for this because the fish can be brought to the table in them.) Arrange the fish in the pan and spoon the remaining stuffing around it. Pour in the reserved tomato liquid, dividing it in half if you use 2 baking dishes. Add 1 cup of water to each pan, or 1½ cups if baking both fish in the same pan. Add bay leaves, lemon juice, and a little salt and pepper. Baste the fish with liquid. If you like, extra whole shrimp can be added to the pan.
Place in the preheated oven and bake for 45 minutes to 1 hour, or until fish flakes when tested with a fork. Baste several times during baking and add a little more water to the pan if sauce thickens too much.
Remove the thread and cut the fish into serving portions; spoon sauce over each. Serve with steamed rice.