Appears in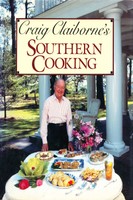 Ingredients
1 red snapper (7 pounds), with head and tail attached but gills removed
Juice of 1 lemon
Salt to taste, if desired
Freshly ground pepper to taste
20 fresh basil leaves
6 fresh rosemary sprigs
3 whole garlic cloves, peeled
2 tablespoons olive oil
2 teaspoons paprika
¼ cup dry sherry
8 hot, freshly cooked peeled shrimp for garnish
Parsley sprigs for garnish
Method
Preheat the oven to 400 degrees.
Using a small boning or paring knife, make incisions lengthwise down the back of the fish, running the knife about 1 inch deep on each side of the backbone, holding the knife close to the bone.
Sprinkle the fish inside the incisions, inside the cavity, and on the outside with lemon juice, salt, and pepper. Distribute the basil leaves and rosemary sprigs evenly within the incisions and cavity of the fish. Insert garlic cloves inside the fish.
Lay out a large rectangle of heavy-duty aluminum foil on a baking sheet and rub the center with 1 tablespoon olive oil. Place the fish on the center of the foil and brush the top with remaining 1 tablespoon oil. Hold a small sieve over the fish and dust evenly with paprika. Pour sherry over all. Bring up the edges of foil tent style, folding and crimping the edges. Leave a small air pocket between the top of the fish and the foil. Seal ends of foil as neatly and tightly as possible. Place foil-wrapped fish in the oven and bake 40 minutes.
Open the foil and carefully transfer the fish to a hot serving dish. Serve garnished with shrimp and parsley sprigs.