Appears in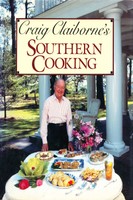 Ingredients
1 red snapper (3½ pounds clea weight), with head and tail left
5 quarts water
1 onion, peeled and thinly sliced
4 carrots, scraped and cut into cubes (about 1½ cups)
1½ cups coarsely chopped celery with leaves
4 garlic cloves, peeled and crushed
6 sprigs fresh parsley
1 teaspoon dried thyme
24 whole cloves
4 bay leaves
¼ cup black peppercorns
1 bottle dry white wine
Method
The bass must be scrupulously cleaned of scales. Using scissors, cut off and discard the back and side fins. Leave the head and tail intact.
If available, use a fish cooker. In the cooker combine the water, onion, carrots, celery, garlic, parsley, thyme, cloves, bay leaves, peppercorns, and wine. Do not add salt. Do not add the fish.
Cover and place on the stove. Bring the liquid to the boil and cook 20 minutes.
Uncover, add the fish, and let it simmer about 13 minutes. Remove from the heat and let rest about 5 minutes before draining and serving.
Remove the skin from the fish and serve.