Appears in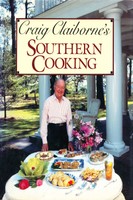 Ingredients
1 trout (about ¾ pound), preferably boned but not filleted
2 tablespoons butter
2 teaspoons finely chopped shallots
Salt to taste, if desired
Freshly ground pepper to taste
4 raw shrimp, shelled and deveined
2 mushrooms, thinly sliced
¼ cup dry white wine
¼ cup Fish Stock or fresh or bottled clam juice
½ cup heavy cream
1 egg yolk
Juice of ½ lemon
2 tablespoons whipped cream, optional
Method
Preheat the oven to 400 degrees.
Rinse the trout and pat dry inside and out.
Select a baking dish large enough to hold the trout and butter it with 1 tablespoon butter. Sprinkle with the shallots and add the trout (do not open it up). Sprinkle lightly with salt and pepper to taste.
Scatter the shrimp and mushrooms around the trout. Add the wine and fish stock and cover loosely with a piece of lightly buttered wax paper. Bake 20 minutes.
Remove the fish and shrimp and keep warm. Pour and scrape the cooking liquid and mushroom slices into a saucepan. Bring to the boil and let cook until quite thick. Do not let the sauce stick or burn.
Carefully pull away and discard the skin on both sides of the trout. This is easily done with the fingers. Leave the skin on the head and tail. Using the fingers, remove the thin backbone from the back of the fish. Arrange the trout on a heatproof serving dish.
Using a fork, carefully remove the mushrooms from the sauce and arrange them over the fish. Arrange the shrimp on either side.
Stir the heavy cream into the sauce. Bring to the boil. Spoon out about ¼ cup of the sauce and to this add the egg yolk and lemon juice, beating well with a fork. Spoon and scrape this mixture into the sauce and cook, stirring constantly, just until the sauce thickens. Swirl in the remaining 1 tablespoon butter. Add salt and pepper to taste. Strain the sauce over the fish and, if desired, run the trout under a very hot broiler until lightly glazed. The sauce will glaze better if whipped cream is folded into the sauce before running the trout under the broiler, but the whipped cream is not essential.