Appears in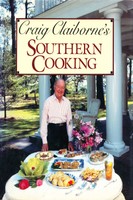 Ingredients
1 chicken (about 4 pounds), cut into serving pieces
½ cup honey
2½ tablespoons vinegar, preferably raspberry or other fruit-flavored vinegar
Salt to taste, if desired
Freshly ground pepper to taste
½ cup lard
½ cup corn, peanut, or vegetable oil
½ cup (all-purpose) flour
2 tablespoons whole wheat flour
½ cup dry white wine
½ cup rich chicken broth
1½ cups heavy cream
1 tablespoon finely chopped fresh thyme leaves, or 1 teaspoon dried
1 teaspoon freshly grated lemon rind
1½ tablespoons finely chopped fresh mint leaves
Method
Put the chicken pieces in a mixing bowl. Blend the honey and vinegar and pour it over the chicken. Stir to coat the pieces evenly. Let stand at least 2 hours, stirring occasionally. Drain the chicken pieces on paper towels, but reserve and set aside 2 tablespoons of the marinade. Sprinkle the chicken pieces with salt and pepper.
Heat the lard and oil in a 12-inch frying pan to a temperature of 360 degrees, if a thermometer is available.
Meanwhile, combine the all-purpose flour with the whole wheat flour. Add the chicken pieces and stir to coat all over. Shake off the excess.
Place the pieces, skin side down, in the hot fat and cook, turning the pieces often, until they are golden brown all over and cooked through, about 20 minutes or longer. The dark-meat pieces generally require a longer cooking time than the white-meat pieces. Drain the chicken on paper towels as it is cooked.
Pour off most of the fat from the pan, leaving the brown particles that may cling to the bottom and sides of the pan. Do not wipe out the skillet.
Combine the wine and chicken broth. Heat the skillet and add the wine mixture, stirring to dissolve the brown particles that cling to the bottom and sides. Cook until reduced by half.
Add the cream, thyme, lemon rind, mint, and the 2 tablespoons reserved marinade. Cook until reduced to about 2 cups. Put the sauce through a fine sieve, pressing to extract all the juices from the solids. Reheat and season with salt and pepper to taste. Spoon the sauce over the chicken and serve.