Appears in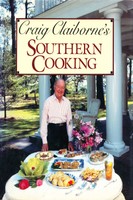 Ingredients
2 small smoked pork hocks, or ½ pound smoked pork
6 cups water, approximately
1 pound lentils
Salt to taste, if desired
¼ cup chopped scallion
4 to 6 tablespoons olive oil
2 to 3 tablespoons wine vinegar
Freshly ground pepper to taste
¼ to 1 teaspoon dry mustard
Method
Put the pork hocks in a large saucepan and add the water. Bring to the boil and cover. Simmer 1½ hours.
Remove the pork from the saucepan and skim off any fat. Add the lentils and salt. Bring to the boil and simmer, covered, about 25 minutes, or until tender. It may be necessary to add more water to the saucepan. The lentils, as they cook, should be almost but not quite covered with the boiling liquid. When the lentils are tender, drain them. They must not be cooked to a mushy stage.
Let the lentils cool.
Cut the meat off the pork hocks and add it to the lentils. Add the remaining ingredients with salt to taste. Blend well and let stand for several hours to develop the flavor.