Preparation info
Yield:

12

or More Servings.
Appears in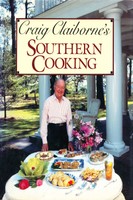 Ingredients
4 cups shelled pecans, coarsely chopped
2 cups whole candied cherries
5 slices candied pineapple, each slice cut into 8 pieces
1 cup flour
1½ teaspoons baking powder
⅛ teaspoon salt, if desired
4 large eggs
1 cup sugar
1 teaspoon pure vanilla extract
Method
Preheat the oven to 250 degrees.
Butter the bottom and sides of an 8-cup cake pan and line the bottom with parchment paper cut to fit neatly. Set aside.
In a large mixing bowl, combine the pecans, cherries, and pineapple pieces.
Combine the flour, baking powder, and salt in a sifter, and sift the mixture over the pecans and fruits.
Combine the eggs, sugar, and vanilla in another bowl and beat well. Pour this over the pecan-and-fruit mixture and beat with a wooden spoon to blend thoroughly.
Pour the batter into the prepared cake pan and bake 1½ hours. Set the pan in a larger pan and pour boiling water around it. Continue baking 15 minutes longer.
Let cool on a rack, then slice and serve. Or wrap the fruitcake in several layers of cheesecloth and store in a cool place.