Appears in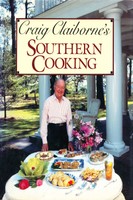 Ingredients
3 cups heavy cream
7 egg yolks
½ cup honey
6 to 8 soft, ripe, unblemished persimmons (about 1½ pounds)
Pecan Sauce, optional
Whole pecans for garnish, optional
Method
Bring the cream to the boil and set aside briefly.
Combine the egg yolks and honey in a heatproof mixing bowl and blend well. Set the bowl inside a skillet and add water to the skillet. Bring water to the boil and, using a wire whisk, beat the honey and yolks until quite thick, about 5 minutes.
Add about ½ cup of the hot cream to the yolk mixture, beating rapidly. Add the remaining cream, stirring vigorously.
Bring the custard mixture almost to the boil, but do not let it boil or it will curdle. Cook, stirring constantly, about 10 minutes. The correct temperature is 180 degrees. This cooking will rid the custard of the raw taste of the yolks. Put the mixture through a fine sieve and let it cool.
Meanwhile, peel the persimmons and remove the seeds. There should be about 2 cups of pulp. Put the pulp into the container of a food processor or electric blender and blend as fine as possible.
Add the persimmon pulp to the cream mixture. Pour the mixture into the container of an ice cream freezer and freeze according to the manufacturer's instructions.
If desired, serve the ice cream with pecan sauce. To serve, spoon the sauce onto a dessert plate. Add a scoop of ice cream to the center. Surround each scoop of ice cream with pecan halves arranged symmetrically, if desired.