Preparation info
Makes enough for

1

( 8 " or 9 " ) pie shell
Appears in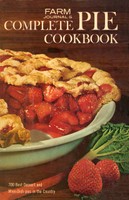 Ingredients
1 c. sifted flour
½ tsp. salt
⅓ c. plus 1 tblsp. vegetable shortening or ⅓ c. lard
2 to 2½ tblsp. cold water
Method
To Make Pie Shell
Unbaked
On lightly floured surface roll Pastry for 1-Crust Pie. Roll it lightly from the center out in all directions to ⅛" thickness, making a 10" to 11" circle. Fold rolled dough in half and ease it loosely into pie pan, with fold in center.
Gently press out air pockets with finger tips and make certain there are no openings for juices to escape.
Fold under edge of crust and press into an upright rim. Crimp edge as desired. Refrigerate until ready to fill.
Baked
Make pie shell as directed for Unbaked Pie Shell, pricking entire surface evenly and closely (¼" to ½" apart) with a 4-tined fork. Refrigerate ½ hour.
Meanwhile, preheat oven. Bake pie shell in very hot oven (450° F.) from 10 to 15 minutes, or until browned the way you like it. Cool before filling.