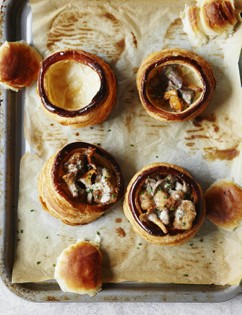 Appears in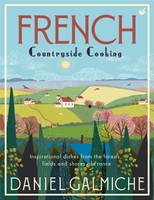 Ingredients
500 g/1 lb 2 oz all-butter puff pastry
2 tbsp plain flour (all-purpose), plus extra for dusting
1 egg, beaten
300 g/10½ oz prepared lamb sweetbreads
40 g/1½ oz unsalted butter
2 tbsp olive oil
1 tbsp very fine dry breadcrumbs
300 g/10½ oz mixed wild or button mushrooms
4½ tbsp whipping cream
1 tbsp chopped chives
sea salt and freshly ground black pepper
vegetables of your choice, such as pan-fried courgettes (zucchini) or steamed spinach or red chard, to serve
Method
Preheat the oven to 190°C/375°F/gas 5 and line a baking sheet with baking paper. Roll out the pastry on a lightly floured work surface and cut out 8 x 9cm/3½in diameter x 5mm/¼in thick rounds. Put 4 of the pastry rounds on the prepared baking sheet. Using a 7.5cm/3in cutter, cut out a circle in the remaining rounds, leaving an outer ring. (Use the cut-out circles for another recipe.) Brush the top of the rounds with beaten egg, making sure the egg does not go over the edge, then lay a pastry ring neatly on top of each one. Carefully brush with egg, then bake for 20 minutes, turning halfway, until risen and golden.
While the pastry cooks, bring a saucepan of salted water to the boil. Add the sweetbreads and cook for 1½ minutes, then refresh in a bowl of iced water, pat dry and remove the skin. Cut the sweetbreads into large cubes. Toss in the flour to coat and tap off any excess.
Heat a large frying pan (skillet) over a medium heat. Add half the butter and oil and when the butter is foaming, add the sweetbreads and fry for 4–5 minutes, or until golden brown and crisp. Add the breadcrumbs, toss to combine and cook for a further 1 minute until the crumbs are crunchy, then drain on paper towel.
When the vol-au-vent cases are cooked, turn the oven down to 100°C/200°F/gas ½. Lift off the centre top layer to of each vol-au-vent to make a hollow. Keep them warm in the oven, with the door ajar, while you finish the filling.
Heat the remaining butter and oil in the cleaned frying pan (skillet) over a medium heat. When the butter is foaming, add the mushrooms and fry for 1–2 minutes until softened. Add the cream and bring to the boil, then after 2–3 minutes when it starts to coat the mushrooms, add the cooked sweetbread mixture and the chives, toss to combine and season with salt and pepper to taste. Spoon the mixture into the cooked vol-au-vent cases and serve with your favourite vegetables.