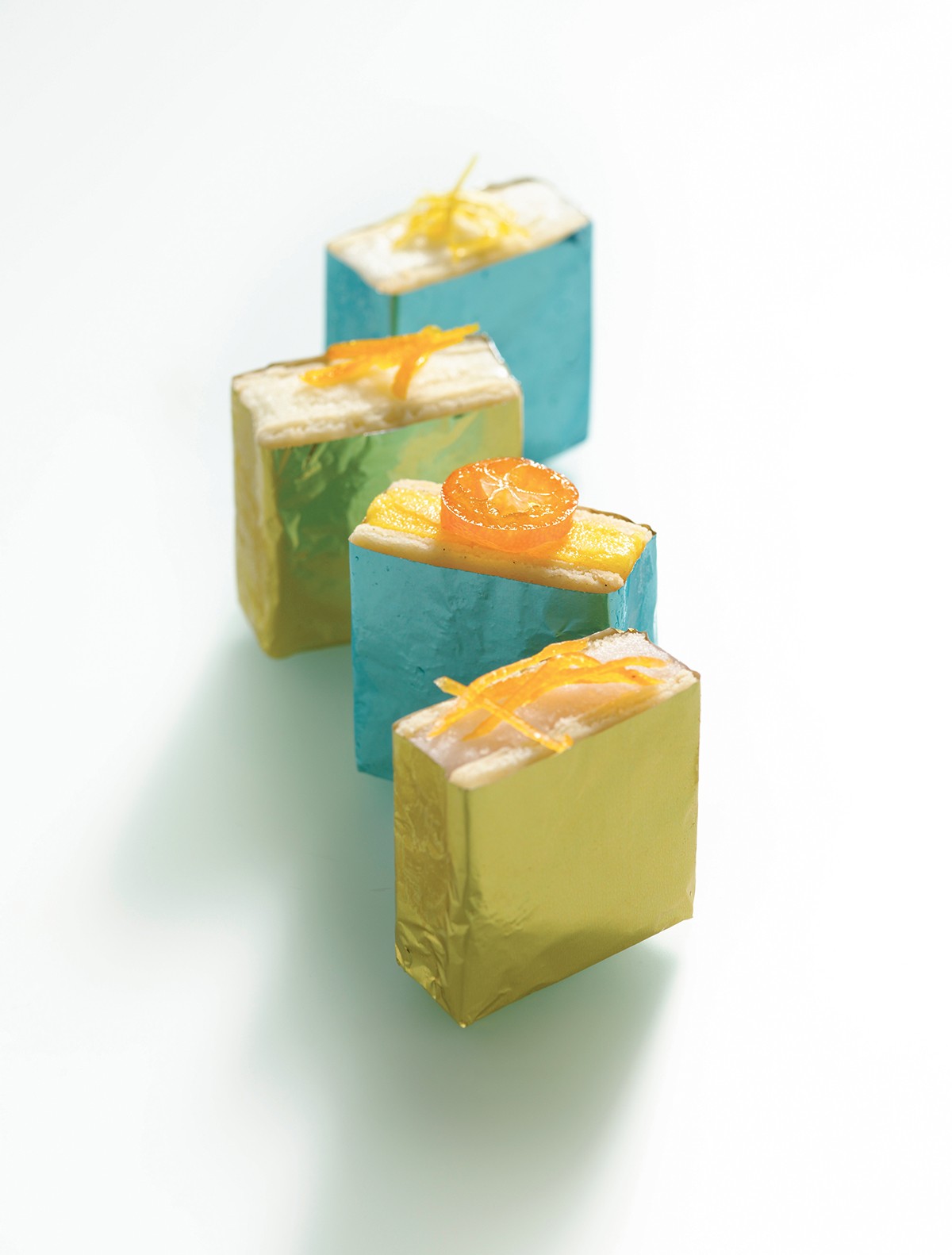 Method
Assembly
Before churning each sorbet base, line 1 sheet pan with a nonstick rubber mat and a 40 cm / 15.75 in by 60 cm / 23.62 in by 2.5 cm / 1 in stainless steel or Plexiglas frame and line another sheet pan with a nonstick rubber mat. Place both sheet pans in the freezer. Make a total of 4 of these set-ups (1 for each sorbet).
Churn each sorbet. The frame will hold a little over 2 L / 2 qt of liquid, but don't forget to take overrun into account. In this case there should be an overrun of 50 percent.
Once the sorbets are churned, pour them into the frozen pans. Using an offset spatula, spread the sorbet evenly so that it fits exactly into the frame, and remove any excess. Work quickly to avoid any melting. Place the sorbets back in the freezer.
Once the sorbets have hardened, use a 5-cm / 2-in square cutter to cut out sorbet squares. Dip the cutter into room temperature water each time in order to get a clean cut.
Place the cut-out squares of sorbet on the other frozen sheet pans. Let them harden again before they are assembled with the shortbread cookies.
Place half of the shortbread cookies on a parchment-lined sheet pan.
Place a sorbet square on each of the shortbread cookies, making sure it is centered.
Place a second shortbread cookie square on top of the sorbet square and push gently so that all three components adhere together.
Freeze for 30 minutes, then wrap in colored confection foil, leaving one of the sides exposed. Reserve frozen. Store the ice cream sandwiches in an airtight container rather than on a sheet pan wrapped in plastic. This method of storage is more efficient for service.
To serve, place one of each flavor of the sandwiches (4 total per portion) on the desired vessel, with the exposed side facing up. Carefully place a small amount (approximately 2.5 g / .09 oz) of the candied zest on top of each sandwich. Make sure the zest corresponds to the sorbet flavor.
These sorbets might be too hard to eat directly from the freezer. Temper them for 4 to 5 minutes before serving.
For a dramatic presentation, all of the sandwiches can be placed in a simple silver box with a lid, then set at the center of the table. When the lid is removed, the sandwiches are revealed. Another presentation idea is to use a large silver bowl filled with crushed ice, into which the sandwiches can be randomly placed. The bowl can be set at the middle of the table. This will also work for individual portions, where all 4 sandwiches (or any other amount) can be placed in small bowls filled with crushed ice.