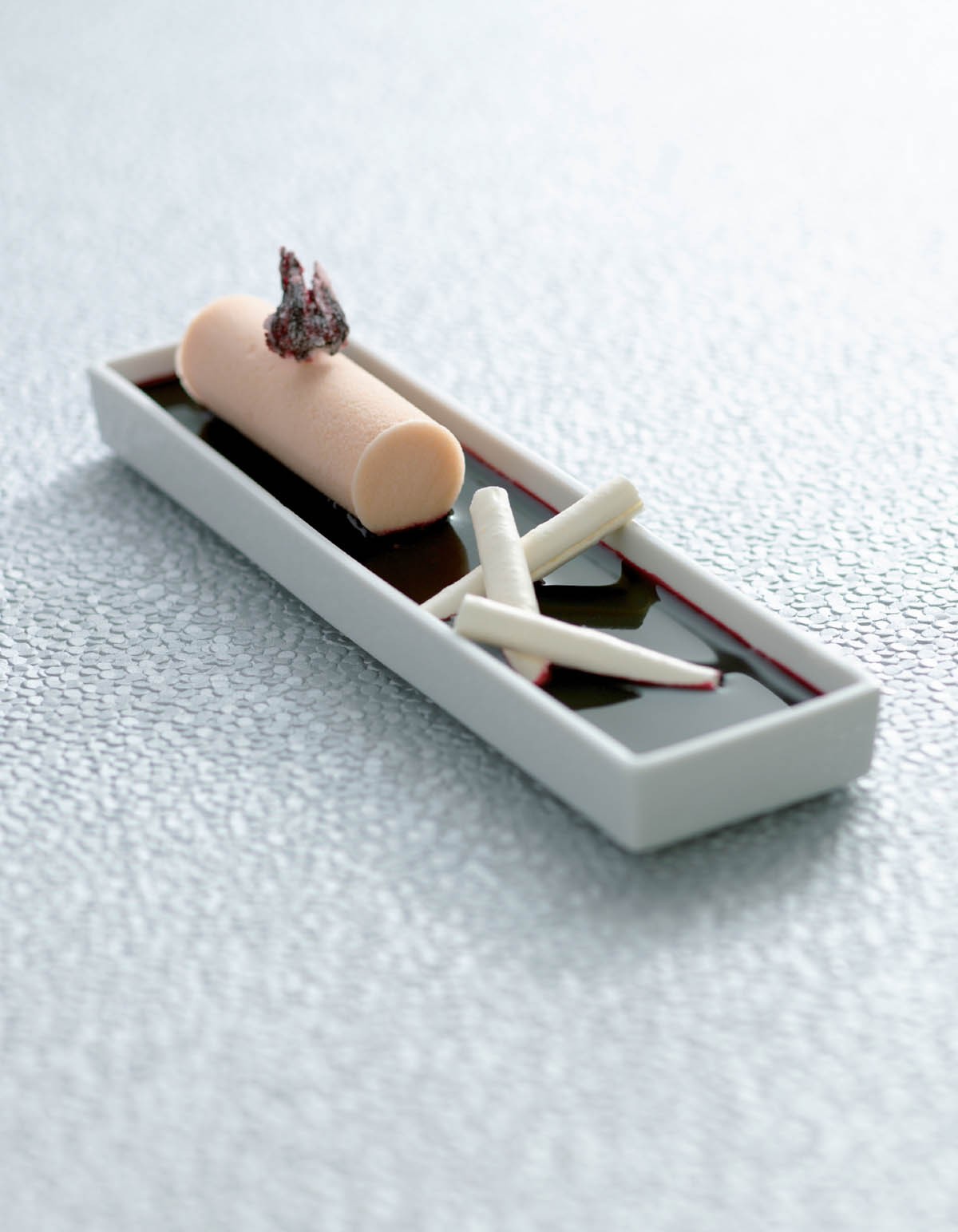 Ingredients
Components
300 g / 10.58 oz Guava Sorbet Base
600 g / 1 lb 5.16 oz Chilled Hibiscus Soup
20 g / .71 oz corn syrup
60 Crisp Meringue Sticks
10 Crystallized Sugar Hibiscus Flowers
Method
Assembly
Line 10 PVC tubes 2.5 cm / 1 in diameter by 7.5 cm / 3 in long with acetate. Place on a sheet pan in a standing position and place them in the freezer.
Churn or pacotize the sorbet, pour it into a piping bag, and pipe it into the prepared PVC tubes. When piping, make sure the tip stays submerged in the sorbet to prevent air pockets inside the tube. Pipe all the way to the top, and even out the surface with an offset spatula.
Place in the freezer to harden.
Pour 60 g / 2.12 oz of hibiscus soup into a small carafe.
Place a small amount of corn syrup in the desired serving bowl to stabilize the meringue sticks. Line up 3 meringue sticks on top of the corn syrup.
Unmold the guava sorbet from the PVC tube and take the acetate off. Place the sorbet directly on top of the meringue sticks.
Place 1 crystallized sugar hibiscus flower on top of the sorbet.
Place 3 meringue sticks in a random but balanced pattern inside the bowl next to the sorbet.
Let the sorbet temper for 2 more minutes and serve immediately.
Once the bowl is placed in front of the customer, pour the soup into the bowl, making sure to pour down the side and close to the base of the bowl so as not to splatter.