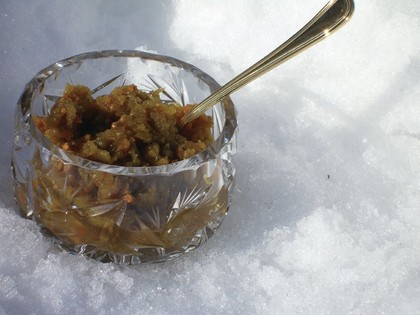 Appears in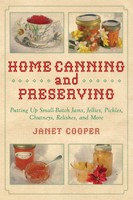 Ingredients
12 oz. bag broccoli slaw
1 medium onion
1 red sweet pepper, sliced (optional)
1 or more small hot peppers (optional)
2 tablespoons coarse salt
Method
For easier grinding, first chop the slaw to cut up the long shreds. Grind the slaw and onion and, if you want additional color, grind several slices of red sweet pepper. For heat, grind up the hot pepper. You should have 3 to 4 cups after grinding the vegetables.
Mix in the salt. Let stand for 1 hour, then rinse well in batches using a fine mesh strainer. Taste for saltiness, and if too salty, soak in cold water for 30 minutes and rinse again. Press out as much water as possible.
Combine the syrup ingredients and simmer for 10 minutes, covered. Let stand while the vegetables are salting.
Add the vegetables to the syrup and cook at a simmer, uncovered, until the vegetables are tender and liquid is reduced, about 2 hours. Add water or vinegar if too dry before cooking is done.