Appears in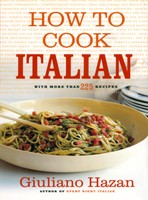 Preparation time: 15 minutes
Total time from start to finish: 3¼ hours
Ingredients
2 carrots
1 ripe fresh tomato or 1 peeled canned tomato
1 medium yellow onion
8 beef marrow bones
1½ to 2 pounds veal neck or rib bones
1 pound veal breast or shoulder
1 pound beef chuck
1 small frying chicken
1 tablespoon salt
2 to 3 ribs celery
1 sprig flat-leaf Italian parsley
1 tablespoon whole black peppercorns
Method
Peel the carrots and the fresh tomato if using. Peel the onion and cut it in half. Put all the ingredients in a large stockpot and add enough cold water to cover by 2 inches. Cover the pot and place over high heat. When the water begins to boil, reduce the heat to very low. Use a skimmer to remove the scum that has risen to the surface. Cover the pot and cook at a very gentle simmer for at least 3 hours.
Pour the broth through a strainer and, once the steam has subsided, put it in the refrigerator. The broth will keep in the refrigerator for only 2 days, so it is best to freeze it. As soon as the broth is chilled and the fat is solidified on the surface, take it out of the refrigerator and lift the fat off with a slotted spatula or spoon. Pour the broth into ice cube trays: Once the cubes are frozen, you can pop them out and store them in resealable freezer bags in the freezer for up to 2 months.
© 2005 Giuliano Hazan. All rights reserved.