Appears in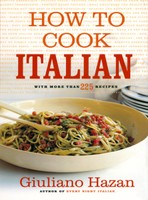 Total time: 1¾ hours
Ingredients
½ recipe Simple Butter and Tomato Sauce
½ medium yellow onion
2 tablespoons butter
1½ ounces pancetta, thinly sliced
12 ounces radicchio
Salt
Freshly ground black pepper
Egg Pasta of Emilia Romagna, made with 2 eggs and 1½ cups flour
¾ cup freshly grated Parmigiano-Reggiano
¾ cup whole-milk ricotta
1 large egg yolk
¾ cup heavy cream
Method
Make the tomato sauce.
Peel and finely chop the onion. Put it with the butter in a 10-inch skillet and place over medium-high heat. Sauté, stirring occasionally, until the onion turns a rich golden color, about 5 minutes.
While the onion is sautéing, chop the pancetta and finely shred the radicchio. When the onion is ready, add the pancetta and cook, stirring, until it loses its raw pink color. Lower the heat to medium-low and add the radicchio. Season with salt and pepper and cover the pan. Cook, stirring occasionally, until the radicchio is wilted and quite tender, 10 to 15 minutes.
Make the pasta dough.
Transfer the radicchio to a medium bowl and add ½ cup of the Parmigiano, the ricotta, and egg yolk. Mix thoroughly and season with salt if needed.
Fill a pot for the pasta with at least 6 quarts water, place over high heat, and bring to a boil.
Roll out and fill the pasta as described.
Put the pot with the tomato sauce over low heat and bring to a simmer. Add the cream, mix it in well, and after about a minute remove the sauce from the heat.
Add 2 tablespoons salt to the boiling water. Collect all the filled pasta on one towel and slide them into the boiling water. Cook until the edges are tender but al dente, about 3 minutes, then drain or lift them out with a skimmer. Transfer to a shallow serving bowl and gently toss with the sauce. Sprinkle some of the remaining ¼ cup Parmigiano over each serving.