Appears in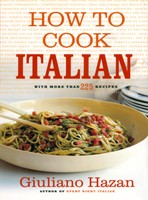 Total time from start to finish: 45 minutes
Ingredients
1 large yellow onion
4 tablespoons extra virgin olive oil
1½ pounds tuna steaks, about ¾ inch thick
Salt
Freshly ground black pepper
3 to 4 sprigs flat-leaf Italian parsley
12 ounces ripe tomatoes
3 tablespoons dry white wine
1 tablespoon red wine vinegar
2 bay leaves
Method
Peel, halve, and thinly slice the onion crosswise.
Put 2 tablespoons of the olive oil in a skillet large enough to hold the tuna in a single layer and place it over medium-high heat. Season the tuna on both sides with salt and pepper. When the oil is very hot, put the tuna in the pan and cook just long enough to brown the tuna on both sides, about 1 minute each side. Remove the tuna from the pan and set aside on a platter. Turn the heat under the pan down to medium and add the remaining 2 tablespoons olive oil and the onion. Season lightly with salt and sauté, stirring occasionally, until the onion softens and turns a rich golden color, 10 to 15 minutes.
While the onion is sautéing, finely chop enough of the parsley leaves to measure 1 tablespoon. Peel the tomatoes and coarsely chop.
When the onion is done, raise the heat to medium-high and add the wine and the vinegar. Let them bubble away for 2 to 3 minutes to allow the alcohol and some of the vinegar's acidity to evaporate. Add the tomatoes, bay leaves, and parsley, season lightly with salt, and cook until the tomatoes are reduced and form a thick sauce, 15 to 20 minutes.
Return the tuna to the pan and cover. Cook until the tuna is heated through and medium-rare, 2 to 3 minutes. Serve at once.
© 2005 Giuliano Hazan. All rights reserved.