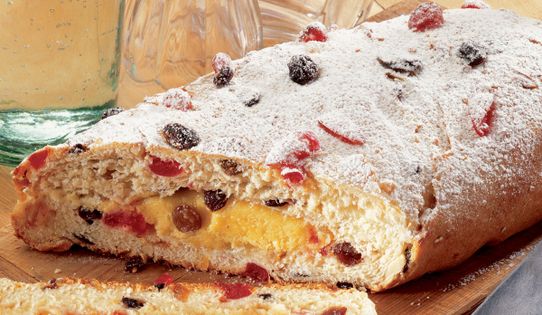 Appears in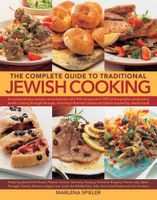 Ingredients
375 g/13 oz/3 cups strong white bread flour
pinch of salt
50 g/2 oz/¼ cup caster (superfine) sugar
10 ml/2 tsp easy-blend (rapid-rise) dried yeast
150 ml/¼ pint/⅔ cup milk
115 g/4 oz/½ cup butter
1 egg, beaten
175 g/6 oz/1 cup mixed dried fruit
50 g/2 oz/¼ cup glacé (candied) cherries, quartered
50 g/2 oz/½ cup blanched almonds, chopped
finely grated rind of 1 lemon
225 g/8 oz/1 cup marzipan
icing (confectioners') sugar, for dredging
Method
Sift the flour, salt and sugar. Stir in the yeast. Make a well in the centre. Over a low heat, gently melt the butter in the milk. Cool, then mix with the egg and pour into the centre of the sifted dry ingredients.
Turn out the dough on to a lightly floured surface and knead for 10 minutes, until smooth and elastic. Put in a clean bowl, cover with clear film (plastic wrap) and leave in a warm place to rise for about 1 hour, or until doubled in size.
On a lightly floured surface, knead in the dried fruit, cherries, almonds and lemon rind so that they are evenly dispersed through the dough.
Roll out the dough to a rectangle, about 25 x 20cm/10 x 8in in size. Roll the marzipan into a sausage shape, slightly shorter in length than the dough.
Place the marzipan in the centre of the dough and fold both sides across to enclose it completely. Place the folded dough seam side down on a greased baking sheet. Cover and leave in a warm place to rise for about 40 minutes, until doubled in size. Preheat the oven to 190°C/375°F/Gas 5.

Bake for 30–35 minutes, or until golden and hollow sounding when tapped on the underside. Leave to cool on a wire rack. Dust with icing sugar.