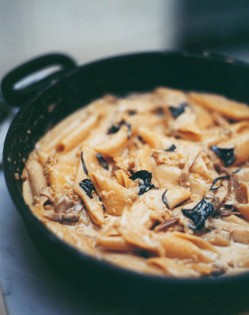 Appears in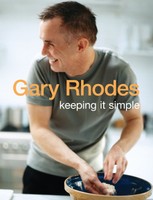 Ingredients
25 g (1 oz) dried porcini or mixed wild mushrooms
a knob of butter
1 onion, finely chopped
1 glass of white wine
150 ml (5 fl oz) double cream
salt and pepper
a squeeze of lemon
400-500 g (14-18 oz) dried pasta
olive oil, for drizzling
Method
Soak the porcini mushrooms for 20-30 minutes in 300 ml (10 fl oz) warm water. Once softened, scoop the mushrooms from the water, squeezing any excess juices back into the bowl, and keep the mushroom-flavoured water to one side. Roughly chop the mushrooms.
Melt the butter in a saucepan, add the onion and simmer for a few minutes until it begins to soften. Pour in the white wine and boil until almost dry.
Add the mushroom water and the chopped mushrooms and boil until just a quarter of the liquid is left. Stir in the cream and simmer to a loose consistency. Season with salt and pepper and sharpen the sauce with the lemon juice.
While making the sauce, cook the pasta until tender. Drain and add to the finished sauce. Drizzle each portion with olive oil.