Appears in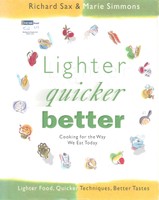 Ingredients
1 cup full-flavored California Zinfandel wine
6 juniper berries
6 garlic cloves, halved
1 piece orange zest (2×½ inch)
1 thyme sprig
1 thick slice onion
1 bay leaf
1 piece flank steak, well trimmed (about 1¼ pounds)
Salt and Freshly ground black pepper
1 tablespoon olive oil
6 ounces shiitake mushrooms, stems removed
1 tablespoon finely chopped parsley
Thyme sprigs, for garnish
Method
Combine the wine, juniper, garlic, orange zest, thyme, onion, and bay leaf in a shallow dish. Add the beef, turning to coat with marinade. Cover and refrigerate overnight, turning at least once.
Remove beef from the marinade, reserving marinade, and pat beef dry. Sprinkle with salt and pepper. Strain the marinade and set aside the wine and solids separately. Dry the pieces of garlic and chop fine. Place 1 teaspoon of the olive oil in a large heavy nonstick skillet and add the chopped garlic. Cover and cook over very low heat, stirring once or twice, until the garlic is tender, about 5 minutes. Scrape the garlic from the skillet and add to the strained wine. Set aside.
Brush the remaining oil over the shiitake caps. Add the mushrooms to the skillet and sauté over medium heat, stirring and turning, until tender, about 10 minutes. Transfer to a serving platter and sprinkle with salt, pepper, and parsley. Cover with foil and place in a low oven to keep warm.
Turn the heat under the skillet to high. Add the steak and cook, uncovered, over medium to high heat, adjusting heat to prevent smoking and turning once, until done, 5 to 6 minutes per side for rare. Set meat aside on cutting board to rest.
Add the wine with the garlic to the skillet and bring to a boil, stirring and scraping pan until the wine is reduced by half and thickened slightly, about 5 minutes.
Meanwhile, slice the beef thin on a diagonal and arrange on the platter with the mushrooms. Drain any juices on the platter, both mushroom and meat, and pour back into the skillet with the reducing sauce.
Strain the reduced sauce over the meat. Garnish with thyme sprigs and serve at once.