Appears in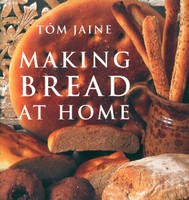 Ingredients
30 g/1 oz fresh yeast
250 ml/9 fl oz warm water at 32°C/90°F
450 g/1 lb white flour
1 teaspoon salt
vegetable oil for brushing
Method
Cream the yeast in the warm water. Put the flour in a bowl and make a well in the centre. Pour the yeast liquid into the well. Pour a little of the flour over the surface of the water and leave to bubble in a warm place (24°C/75°F) for 20 minutes. Add the salt to the sponge mixture and mix it all into a dough. Turn out on to a floured work surface and knead for 10 minutes, keeping the dough moist but not sticky.
Leave the dough to rise in a bowl covered with oiled clingfilm in a warm place for about 45 minutes, until doubled in size.
Turn out on to the lightly floured work surface and divide the dough in two. Work each piece into a ball, then roll into a long oval about 12 mm/½ inch thick. Place on greased baking sheets, cover with oiled clingfilm and leave to prove in a warm place for 20 minutes. Meanwhile heat the oven to 220°C/425°F/gas 7.
Brush the loaves with oil and bake in the centre of the oven for about 20 minutes, until golden brown. Eat warm.