Appears in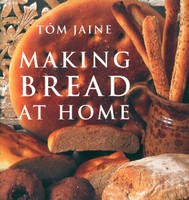 Ingredients
15 g/½ oz fresh yeast
120 ml/4 fl oz warm water
450 g/1 lb unbleached white bread flour
large pinch of salt
60 g/2 oz white sugar
½ teaspoon ground aniseed
120 ml/4 fl oz coconut milk
8 drops of vanilla extract
1 egg
3 tablespoons corn oil
Method
Cream the yeast in the warm water. Mix the flour, salt, sugar and ground aniseed in a bowl, and make a well in the centre. Add the yeast liquid and mix in a little of the flour with your fingers to make a sponge. Leave for 20 minutes, add the coconut, vanilla extract and egg to the bubbling sponge. Mix to a dough. Add the corn oil and knead it into a dough while still in the bowl. Turn out on to a lightly floured work surface and knead for 5 minutes.
Leave the dough to rise in a bowl covered with oiled clingfilm in a warm place (24°C/7S°F), until doubled in size. Turn it on to the floured work surface and divide into eight pieces. Roll these with the flat of your hands into thin sausages about 40 cm/16 inches long. If the dough resists stretching, roll it in stages.
Shape each sausage into a spiral or snail, starting from the centre and working outwards. Pinch the end to the main body of the spiral so that it does not spring out. Leave them to rise under oiled clingfilm on a greased baking sheet for 30 minutes, until doubled in size. Meanwhile, heat the oven to 230°C/450°F/gas 8. Bake the buns on the centre shelf for 15-20 minutes, until evenly browned. Cool on wire racks.