I'm now far more concerned about species of fish in the ocean than I was seven years ago. And that is in large part due to having children. I can't help feeling that our children will be left to clean up the mess that we, and our forefathers, have made of our environment. We have done so much damage in one or two generations.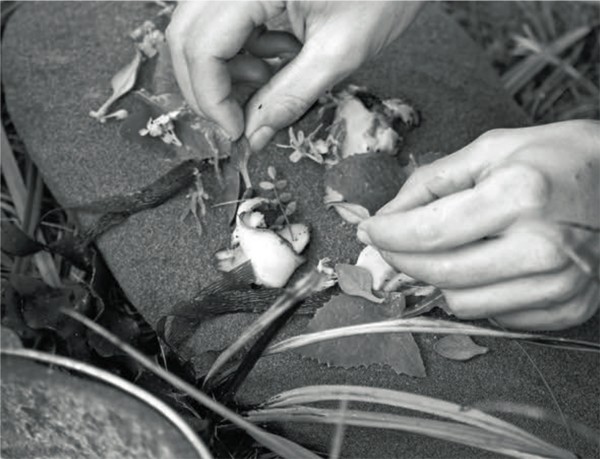 We cannot keep up our poor treatment of Mother Nature, of her land, waterways and oceans. It's not a conspiracy that our ocean-stocks are in decline. It can be attributed to the greed of man. I have witnessed it from an early age — on numerous occasions I not only watched individuals filling the boots of their cars with hundreds of wild abalone, ripping out every last one from the rockpools around my homes in Awakino and Whareorino, but I also saw huge international fishing boats illegally trawling along the coastline. I remember running through an old stock tunnel to an isolated bay to see one such trawler stealthily carrying out its illegal operations. Even as an eleven-year-old I understood that what they were doing was wrong.
Hopefully there's a chance of turning this devastation of our oceans around in the next generation. Our children are going to be a lot smarter than us. Already, the level of interest my son, Kobe, shows in things that are sustainable, particularly with regard to the ocean, is incredible: he regularly visits our local marine discovery centre; he is aware that sharks are over-fished; he knows that we shouldn't eat bluefin tuna. It's hard to say how much of that can be attributed to my influence, but it is notable.
I've been concerned about what is happening to the sea for a long time. For me, these lessons on sustainability and caring for the environment are things that I initially learned from my father, but having children has only amplified those concerns. I fondly remember diving for abalone with my father, and it is an activity that I've shared with Kobe too. But I worry now about whether there will be any abalone left for Kobe and his children in twenty-five years' time? Who knows?
With children, it's important to create good memories of food. I know Kobe will never forget those special days when we've gone to the coast and cooked our haul simply on the beach where we caught it. Experiences such as these are often underrated. I took Kobe and my daughter Ella to pick wild mushrooms several years ago — they loved it and still talk about it. You've never seen two little kids happier or more engaged as I taught them about the mushrooms that you can safely pick.
This dish of Abalone, Seaweeds and Salt From the Same Environment is my modern homage to the simple way I ate as a child with my family on the beach, when my father would light a fire and we would cook the shellfish we had gathered together. It is a dish that is fun to make with children, and teaches them the importance of the ocean — the provenance of our seafood and our most important natural resource.
You will need to make the sea salt at least a week before. Be careful not to gather seawater, shellfish or seaweeds from crowded areas or where there is toxic run-off from land. Abalone is always best humanely killed and consumed as soon as it has been harvested — when stored out of water, abalone can lose its sweet briny essence or develop unsavoury flavours.