Appears in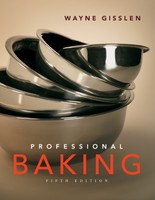 Ingredients
Components
Genoise or other sponge cut into 3 very thin layers, about ¼ in. (6 mm) thick
Bavarian Cream in any flavor
Whipped cream flavored to be compatible with the flavor of the Bavarian cream (use chocolate whipped cream with chocolate Bavarian torte)
Dessert syrup, flavored appropriately
Method
Procedure
Line the bottom of a cake pan or springform pan with a thin sponge layer. Moisten with syrup.
Prepare the Bavarian cream. Pour enough of the mixture into the cake pan to make a layer about ¾ in. (2 cm) thick.
Place a second layer of sponge cake on top of the cream. Moisten with syrup.
Fill with another layer of Bavarian cream.
Top with the remaining sponge layer.
Chill until set.
Unmold.
Ice the top and sides with whipped cream.
Decorate as desired.