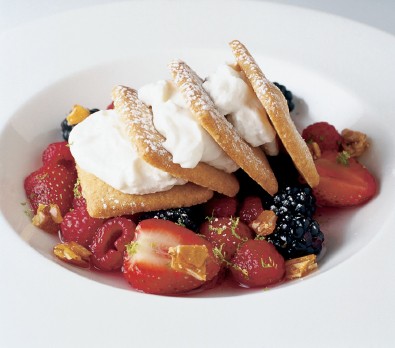 Appears in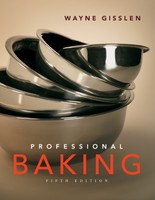 Ingredients
Components
Fresh raspberries or a mixture of raspberries, blackberries, and strawberries
Simple syrup
Confectioners' sugar
Grated lime zest
Method
Procedure
Make small shortbread cookies with the Linzer dough. Roll out thin, cut into squares 1½–2 in. (4–5 cm) across, and bake until crisp. (Note: The dough is very soft and difficult to roll thin; be sure it is not too warm, and use plenty of flour for dusting, or else roll out between two sheets of parchment.) Cool completely.
If you are using strawberries, cut them into quarters or wedges. Place the berries in a bowl and add enough simple syrup to cover. Refrigerate several hours or overnight.
Dust the cookies very lightly with confectioners' sugar.
On a dessert plate or in shallow soup bowl, ladle some berries and a little of the syrup.
Place 1 shortbread cookie in the center of the berries. Place a dollop of crème chantilly on top of the cookie, using either a pastry bag or a spoon. Repeat with 2 more cookies and additional cream. Either stack the cookies vertically, like a napoleon, or lean them against the first one, like a stack that has tipped on its side. Top with a fourth cookie, but do not top this one with cream.
If desired, dust the dessert very lightly with confectioners' sugar by holding a sieve over the plate and giving it one or two light taps, taking care not to get the sugar on the rim of the plate.
Sprinkle the berries lightly with lime zest.
Finish with a light sprinkle of crushed nougatine.