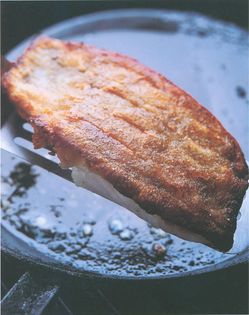 Appears in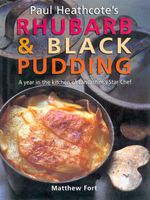 Ingredients
225 g / 8 oz celeriac, cut into julienne strips
150 ml / ¼ pint mayonnaise (see Caper Mayonnaise but omit the capers)
1 tsp grainy mustard
salt and freshly ground white pepper
200 g / 7 oz mixed salad leaves
vegetable oil for deep-frying
2 whole trout, skinned (but skin reserved and well scaled), filleted and pin bones removed
flour, for dusting
cayenne pepper
celery salt
25 g / 1 oz butter
Method
Mix the celeriac with the mayonnaise and mustard, then season with salt and pepper.
Make the dressing by whisking all the ingredients together, then toss the salad leaves with a few drops of the dressing and some seasoning.
Heat the oil for deep-frying, run the trout skin through the flour seasoned with cayenne and celery salt and deep-fry until crisp and golden.
Make the Anchovy Croûtons: in a bowl, chop the olives, anchovies, garlic and thyme together to form a fine paste. Spread some of the paste on the toasted croûtons.
Preheat a hot grill. Cut the trout fillets in half and place them on a greased tray. Put a small knob of butter on each fillet and cook under the hot grill for about 1 minute without turning.
Arrange the dressed salad leaves on the serving plates with the celeriac on top. Then place a piece of trout on top of that. Pour some of the remaining dressing over and around the trout. Garnish with the fried trout skin and scatter the croûtons around the plate.