Appears in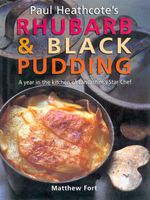 Ingredients
6 halibut fillets, each about 175 g / 6 oz
good knob of butter
350 g / 12 oz spinach, stalks removed
1 garlic clove
900 g / 2 lb Jersey Royals, scrubbed but not peeled
12 asparagus tips, pointy ears removed and cut into 3
115 g / 4 oz green beans, halved
115 g / 4 oz broad beans, podded
50 g / 2 oz shelled peas
juice of ½ lemon
Method
First make the Tarragon and Chervil Juice: melt a knob of the butter in a heavy-based pan and sweat the shallots in it until softened but not coloured. Add the white wine and reduce by half. Add the fish stock and reduce by half. Add the cream and whisk in remaining butter, diced. Adjust the seasoning and pass through a fine sieve.
Cook the spinach: melt the butter in an non-aluminium pan and add the spinach and garlic with some salt and pepper. Fry gently until just softened.
Prepare the other vegetables: cook the Jersey Royals, asparagus and green beans in separate pans of boiling salted water until just tender. Drain. Blanch the broad beans and peas in boiling salted water for 30 seconds only. Pick off skins. Keep the vegetables warm.
Char-grill the halibut fillets on a preheated hot griddle pan for about 3-4 minutes on one side and then turn over and cook the other sides for about 15 seconds only. Season with salt and lemon juice.
While the halibut is cooking, finish the sauce by stirring in the chopped herbs.
To serve: put a bed of spinach on each of the serving plates. Stir the other vegetable garnishes into the sauce and spoon half of this around the plates. Place a halibut fillet in the middle and spoon the remaining sauce and garnish around and over the top.