Appears in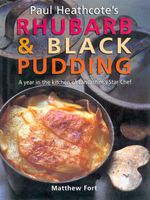 Ingredients
5 whole trout, each about 225 g / 8 oz, filleted, skinned and pin bones removed
8 fennel bulbs, separated and destringed
1 large head of celeriac, sliced across thinly
about 600 ml / 1 pint chicken stock or water
Method
Ideally 2 days before you want to serve the terrine: make the home-dried tomatoes: spread the tomato quarters on an oven tray, sprinkle over the salt and sugar and leave in a hot cupboard overnight until almost dry.
Next day, make the marinade for the trout: mix all the ingredients in a pan and warm them through until they are just below boiling point. Leave to cool, then add the prepared trout fillets and leave to marinate for 2-3 hours.
Make the saffron liquor: put 300 ml / ½ pint water in a bowl and add all the other ingredients. Leave the liquor for about 30 minutes to allow the saffron to infuse.
Braise the fennel in just enough of the saffron liquor to cover for about 20 minutes in a covered pan. Reserve the remaining saffron liquor to use as a dressing.
Cook the celeriac in the chicken stock until the slices are pliable, but not soggy.
Wipe the seasonings off the home-dried tomatoes and toss them in olive oil to coat well.
Make the tomato jelly: in a bowl, dissolve the gelatine leaves in a little warm water. Strain in the tomato juice and mix together well. Season with salt and white pepper.
Line a 30-x10-cm / 12-x4-inch terrine mould with the cooked celeriac, then arrange alternating layers of trout fillet, fennel and home-dried tomatoes, pouring a little of the warm tomato jelly between each layer and seasoning each layer as you go.
Cover the top with cling-film, then with a suitable rigid cover, and weight that lightly. Chill the terrine in the fridge for about 12 hours, ideally overnight.
Make the Cucumber Pickle: peel the cucumbers, halve them length-wise and remove the seeds, then slice them thinly. Thinly slice the onions; deseed and thinly slice the green pepper. In a large bowl, mix these together with the salt and leave for about 3 hours.
Drain the vegetables and rinse them well under cold running water. Place in a large pan with the vinegar and bring to the boil. Reduce the heat and simmer for about 25 minutes, until the vegetables are soft. Add the sugar and spices, stir until the sugar has dissolved and bring to the boil. Remove from the heat and allow to cool.
Serve the terrine cut into thick slices, with a little mound of the cucumber pickle to one side and some of the reserved saffron liquor poured around the plate.