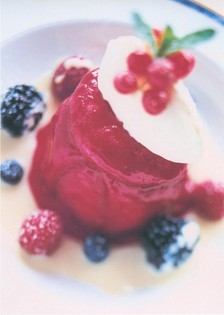 Appears in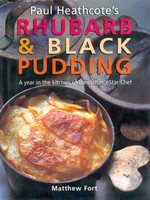 Ingredients
12 thin slices of white bread
675 g / 1½ lb mixed red and black fruit, such as raspberries, strawberries, redcurrants, blackcurrants, stoned cherries
175 g/ 6 oz sugar
15 g / ½ oz gelatine
Method
The day before you want to serve: cut 4 small circles of greaseproof paper to line the bottom of each of 4 individual dariole moulds.
Remove the crusts from the bread and roll the slices out more thinly with a rolling pin. From the slices of bread, first cut out 4 circles roughly the size of the bottoms of the dariole moulds (use a suitable cup or glass) and 4 to match the tops (use a dariole mould as the cutter for these). Cut the other slices into rectangles.
Put the fruit and sugar in a saucepan and bring to the boil. Simmer for about 5 minutes. Dissolve the gelatine in a little water. Pass the fruit through a sieve. Stir the dissolved gelatine into the strained liquid and stir until well mixed.
Dip the base circles of bread into the liquid and use them to line the bottoms of the moulds. In the same way, line the sides of the moulds, overlapping the pieces slightly and allowing a little of the bread to overhang the tops.
Pack the moulds with the fruit and pour a little of the juice over the top. Dip the top circles in the liquid and place on the fruit. Fold over the overhanging pieces of bread to secure the tops. Chill for 24 hours before serving.
Serve the puddings on top of some English custard dotted with summer fruit, setting a quenelle (moulded with 2 spoons) of clotted cream on top of the pudding.