Appears in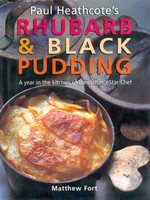 Ingredients
250 g / 9 oz caster sugar
1 cinnamon stick
1 vanilla pod
4 peaches
raspberries, to decorate
Method
Well ahead, make the Almond Parfait: put the milk and vanilla pod in a pan and bring to just below the boil. Whisk the egg yolks and sugar together in a heatproof bowl until light. Pour the milk over the egg mixture, then return to the pan and cook, stirring continuously, until the custard coats the back of a spoon. Remove from the heat. Pass through a fine sieve, stir in the almond essence and allow to cool. When cool, mix in the cream. Churn in an ice-cream maker until frozen.
Prepare the peaches: put the sugar in a pan with 500 ml / 18 fl oz of water and the cinnamon stick. Scrape out the seeds from the vanilla pod and add them with the scraped pod as well. Bring the syrup to the boil, then reduce the heat to a simmer.
Poach the peaches in the syrup until cooked but not too soft (so the skin can easily be removed), about 15–20 minutes (although, if the peaches are very ripe, as little as only 2 or 3 minutes may be needed).
Transfer the parfait from the freezer to the fridge about 20 minutes before you want to serve.
Make the raspberry coulis: put the raspberries and sugar in pan with a drop of water and bring to the boil. Cook until a syrup has formed that is thick enough to coat the back of a spoon. Purée in a blender or food processor, then strain through a sieve to remove seeds. Adjust the sweetness with a little more sugar, if necessary.
Spread a layer of the raspberry coulis in a circle on the bottom of each serving plate and place a slice of parfait on top, then top that with a peach. Decorate with some raspberries.