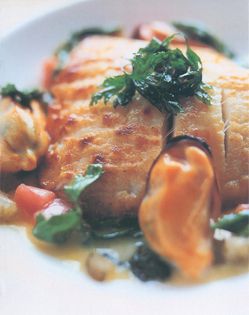 Appears in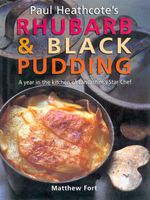 Ingredients
1 large skate wing, flesh removed from the bone
200 ml / 7 fl oz nage
1 tsp cream
150 g / 5 oz butter
salt and freshly ground white pepper
lemon juice
a little oil
1 garlic clove
200 g / 7 oz spinach
Method
Cut the skate into 4 equal portions and chill in the fridge until ready to cook.
Reduce the nage down by one-half, then add the cream and whisk in 125 g / 4½ oz of the cold butter, a little at a time. Season with salt, pepper and a little lemon juice.
Get a frying pan good and hot, add a little oil and, when that is hot, fry the skate for about 3-4 minutes until golden brown. Turn and cook the other side for a further 20 seconds.
While the fish is frying, heat the remaining butter in another pan with the garlic and cook the spinach with some seasoning until just wilted.
Divide the spinach between 4 warmed bowls and put a piece of skate on top. Season with salt and a little lemon juice. Keep warm.
Add the garnish to the nage and warm through, but do not allow to boil.
Spoon the garnish and sauce around the skate and serve.