Appears in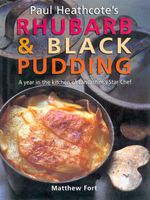 Ingredients
1 rib-end loin of pork, weighing about 2 kg / 4½ lb
salt and freshly ground black pepper
Method
First, well ahead, make the Herb Juices as described on page 202.
Make the Cider Potatoes: peel the potatoes and cut them into 2.5-cm / 1inch-thick slices. Using a 5-cm / 2inch circular cutter, cut the potato slices into rounds. If you like, peel around the edges of the potato for a neater appearance.
Put the potato slices in a large pan and cover with cider or apple juice. Add the butter and salt. Place the pan over a high heat and bring to the boil. Gently reduce the liquid, until it is syrupy and caramelization has begun. Turn the potatoes and gently colour them until nicely golden on both sides. If the potatoes are coloured but not cooked, add a little water and repeat the process. Remove and keep warm.
While the potatoes are cooking, prepare the pork: preheat the oven to 220°C/425°F/gas 7. Chine the pork, remove the skin from the loin and reserve to one side. Use a sharp knife to remove the silver skin from the pork flesh. Clean down the rib bones and portion the pork. Remove the excess fat, cut it into strips the size of each pork cutlet and wrap these around the pork. Tie up so that they will hold their shape.
In a hot ovenproof frying pan, seal the seasoned meat on both the sides which are not covered by the fat.
Put the pan in the oven, with the pork skin on the bottom of the pan (to protect the meat and keep it moist). Cook for about 15 minutes.
While the pork is roasting, make the Gâteau of Black Pudding, Onions and Cabbage: put a little oil in a hot pan, add the onions and sweat them until all the moisture has gone. Season, add the chopped sage leaves and set side.
Remove the large vein from the cabbage leaves and discard. Blanch the leaves in boiling salted water, then refresh in iced water.
Meanwhile, sweat the bacon in the butter until cooked, then add the shallot and cook until softened but not coloured. Add the blanched cabbage leaves, season with pepper and stir to warm through.
Put the slices of black pudding inside a metal cutter about 7.5 cm / 3 inches across and 10 cm / 4 inches high. Add a layer of onion and heat through in the oven for about 10 minutes. Put the cabbage on top of the onion.
Turn the gâteaux out on to one side of the centre of (preferably oval) serving plates, with the cabbage on the bottom. Put the pork in the middle of the plates and the potatoes on the other side, in a line. Spoon the sauce over all three.