Appears in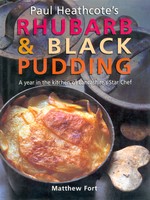 Ingredients
butter, for greasing
25 g / 1 oz Parmesan cheese, finely grated
whites of 6 eggs
1 tbsp lemon juice
Method
First make the rarebit mixture: in a pan, melt the cheese in the beer. Add the flour, cornflour, breadcrumbs and mustard, stir in and cook until thick and smooth. Beat until cool.
Add the egg and extra yolk with the Worcestershire sauce. Season to taste, then leave to rest until coolish.
Preheat the oven to 190°C/375°F/gas 5 and grease 4 ramekin dishes with butter, then dust the insides with the Parmesan.
Whisk the egg whites to firm peaks, then gently stir in the lemon juice.
Reheat the rarebit mixture over a low heat until soft. Beat a large spoonful of the whipped egg whites into the rarebit mix to make a paste, then gently fold in the rest with a large metal spoon.
Spoon into the prepared ramekins and bake immediately in a hot oven for about 10 minutes, until nicely coloured and well risen.