Appears in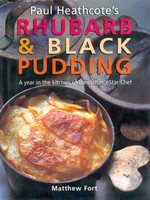 Ingredients
4 Granny Smith apples, peeled, cored and quartered
2 eggs
175 g / 6 oz caster sugar
90 g / 3¼ oz flour, sieved
25 g / 1 oz butter
Method
Well ahead, make the Cider Butter as described.
About 1 hour before you want to serve, make the Mulled Wine: mix all the ingredients together in a pan and bring to the boil.
Drop the apple quarters for the flans into the boiling mulled wine, remove the pan from the heat and allow them to cool in the wine.
When cool, make the Flans: preheat the oven to 190°C/375°F/gas 5. Whisk the eggs and 60 g / 2¼ oz of the sugar together until doubled in volume, then fold in the sieved flour.
Put one-quarter of the remaining sugar and one-quarter of the butter into each of 4 small ovenproof blini or pancake pans and heat to make a caramel. Add 4 apple quarters to each pan, spoon over some of the flan mix and bake in the oven for about 10 minutes.
Turn the flans out on plates, with the fruit upwards, pour over the cider butter and serve with Honey or Caramel Ice-cream if you wish.