Appears in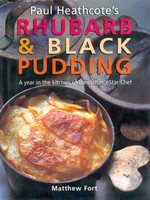 Ingredients
225 g / 8 oz bananas, roughly chopped
1 tbsp lemon juice
Method
Well ahead, make the Honey Ice-cream as described.
Make the Butterscotch Sauce: put the sugar, butter and syrup in a heavy-based pan and bring to the boil, then cook until golden in colour. Add the cream, bring back to the boil and continue cooking until it has a good dark-brown colour and thick consistency, about 10 minutes.
At the same time, put the banana in a pan with the lemon juice and 200 ml / 7 fl oz water. Bring to the boil and cook over a gentle heat, stirring, until all the water has evaporated.
Purée the bananas, then pass through a sieve.
Preheat the oven to 190°C/375°F/gas 5 and grease 4 ramekins with butter, then coat their insides with sugar.
Make the Pastry Cream: in another pan, bring the milk with the vanilla pod to the boil. In a mixing bowl, mix the flour, cornflour, egg yolks and sugar together. Pour the milk on to the egg mixture and stir. Pour back into the pan and cook out until thick. Add 2 tablespoons of the banana purée and cover with greaseproof paper to prevent a skin forming. (The remaining purée can be used as a dessert or as a garnish for ice-cream.)
Make the meringue: whisk the egg whites until they form stiff peaks. Add the sugar and continue whisking until the mixture forms a shiny meringue.
Take 4 spoonfuls of the pastry cream and warm up in a mixing bowl or in a microwave. Add 4 spoonfuls of the meringue and mix in well. Add a further 8 spoonfuls of the meringue and fold in gently.
Spoon into the prepared ramekins and bake in the oven for about 10 minutes, until coloured on top and well risen.
While the soufflés are cooking, reheat the butterscotch sauce gently and make the Caramelized Bananas: get a frying pan hot, add the oil and icing sugar and heat until foaming. Add the bananas and toss quickly.
Serve the soufflés as soon as they are cooked, with a side plate of the ice-cream and caramelized bananas dressed with butterscotch sauce.