Appears in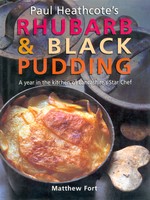 Ingredients
2 whole quail, boned (get your butcher to do this for you, but make sure you get the bones)
12 quails' eggs
salt and freshly ground white pepper
a little oil
Method
First make the stock: sweat the shallots and garlic in a pan with the butter. Add the quail bones and pour in the wine and chicken stock. Add the thyme and bring to the boil. Simmer for 30 minutes. Pass through a fine sieve, skim off any fat that may have appeared and set aside.
Make the stuffing: mince the chicken breast and foie gras together. Put the mince into a bowl over some ice to keep it cool, add the seasoning and gradually incorporate the cream. Finely chop the herbs and add them. Leave in the fridge until needed.
Prepare the vegetable garnish: place the artichokes in a pan of boiling salted water and cook for about 10 minutes, or until they fall from a small knife (don't overcook as they go to mush). When cooked plunge into iced water. Drain.
Place the baby leeks in the boiling water and cook for about 5 minutes, depending on the thickness of the leeks. When cooked, plunge into iced water. Drain.
Pick all the leaves from the parsley (leaving very little stalk) and place in the boiling water for about 2 minutes. Plunge into iced water so that they keep their bright colour. Drain.
Place the quails' eggs in some boiling water containing a little vinegar and boil for ½ minutes. Lift the eggs out and plunge them into iced water. When cold, shell and store in the fridge.
Preheat the oven to 190°C/375°F/gas 5.
To stuff the quail: place each quail on a board, skin side down, and open it out flat. Season the inside of the bird. Place a dessertspoon of the stuffing in the centre and place a quail's egg in the middle of the stuffing. Bring the skin back around the quail so that it resembles a whole bird. Using a needle and cotton, sew the bird up along the cut.
Season the stuffed birds and colour both sides quickly in a little oil in a hot ovenproof frying pan. Then cook in the oven for about 8 minutes, turning the birds on the other side halfway through. Remove from the oven and allow to rest in a warm place for about 5 minutes.
To complete the dish: bring the stock to the boil, then reduce to a simmer. Add the cream and whisk in the cold butter (don't allow to boil again). Add the artichokes and mushrooms and cook for about 2 minutes. Add the leeks and quails' eggs and simmer for a further minute. Season and add a squeeze of lemon juice, truffle oil if you are using it, and the parsley. Divide the garnish between 4 warmed bowls.
Remove the cotton from the quail and cut them in half so that each portion has a whole breast and a leg. Place in the centre of the bowl and pour over a little of the sauce.