Appears in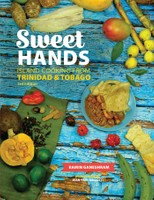 Ingredients
2 tablespoons canola oil
1 small onion, chopped
3 cloves garlic, finely chopped
1 tablespoon Trinidad curry powder
4 medium yukon gold potatoes, peeled and cut into 1-inch chunks
8 hard-boiled eggs, peeled and sliced in half lengthwise
Method
Heat 1 tablespoon of the canola oil in a large, deep fry pan and add the onion. Cook until the onion is translucent, about 2 minutes. Add the garlic and cook for 1 minute more. Stir in the curry powder and fry, stirring constantly, until the curry begins to release its aromas.
Add the potatoes and stir well, frying for 1 minute. Add 1 cup of water, mix well, and lower heat and simmer for 15 minutes.
While potatoes are cooking, heat another fry pan, preferably non-stick and heat the remaining 1 tablespoon oil. Add the egg halves in a single layer and fry gently until lightly browned on all sides. Remove from the heat.
Gently add the egg halves to the potato mixture, being careful not to separate the yolks from the whites. Simmer 10 minutes. Serve with Plain Rice or Sadha Roti.