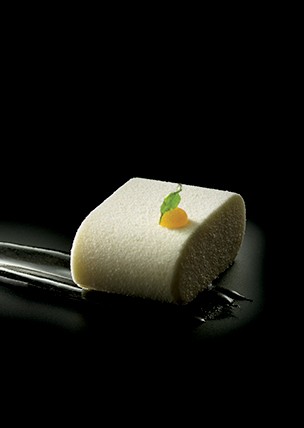 Appears in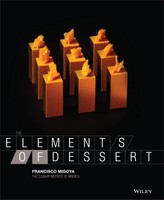 Ingredients
Coconut Ice Cream Base
Skim milk 300 g 10.58 oz 30%
Coconut milk 320 g 11.29 oz 32%
Heavy cream 105 g 3.7 oz 10.5%
Powdered milk 42 g 1.48 oz 4.2%
Sugar 160 g 5.64 oz 16%
Ice cream stabilizer 3 g .11 oz .3%
Egg yolks 70 g 2.47 oz 7%
White chocolate, melted 100 g 3.5 oz
Method
For the coconut ice cream base: See Modern Ice Cream Method. Combine the skim milk and coconut milk. Add them in Step 3 and add the heavy cream in Step 6 when it reaches 45°C. Age the base for at least 4 hours.
Meanwhile, line a flat surface such as a Plexiglas or a half sheet pan with a nonstick rubber mat. Place 10 (or more; see Note) rectangular molds that measure 6 cm/2.5 in long by 5 cm/2 in wide by 2.5 cm/1 in deep on top of the mat.
Line the inside of each mold with a strip of acetate 22.5 cm/9 in long by 1.25 cm/.5 in wide. Freeze this setup.
Churn the coconut ice cream base, and then fill each rectangular mold. Even out the tops with an offset spatula. Return to the freezer to harden.
Once hardened, remove the frame and the acetate strip and return to the freezer.
Remove the ice cream from the freezer. Turn the ice cream up so it stands with the length side horizontally and the width side vertically. Apply a thin layer of chocolate to the top of the ice cream, acting quickly to spread it in an even layer. This will be the "foot" of the ice cream, or what it will be standing on eventually.