Appears in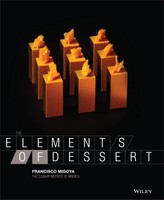 Ingredients
Apple Juice
Granny Smith apples 1.6 kg 3 lb 8.48 oz 88.88%
Superfine sugar 200 g 7.05 oz 11.12%
Method
For the juice: Cut the apples in half and then each half into 4 wedges. Juice the apples using a juicer (see Note).
Place the juice in the distiller (see Resources) and turn it on.
When most of the liquid has been distilled (95 percent), there will be a thick, dark brown liquid left at the bottom of the distiller; this is the apple molasses. Reserve this liquid for service in an airtight container at room temperature. It will keep indefinitely if stored properly in a cool, dry area.
Add the sugar to the distilled apple juice and stir until it has dissolved. Proceed with the gelée.