Appears in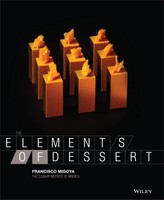 Ingredients
Fig purée 250 g 8.82 oz 98.52%
Methocel A7C 2 g .09 oz .99%
Xanthan gum (.5%) 1 g .04 oz .49%
Method
Ideally, this paper is made at least 8 hours before service or even the day before. This will allow it to fully dry in the dehydrator and become crisp and brittle when it is taken out of the dehydrator.
Cut 10 stencils from of a thin acetate sheet with the dimensions below using a ruler and a sharp cutter.
Pour the fig purée into a blender cup. Turn the blender on to medium speed. Slowly pour in the Methocel A7C, and then slowly pour in the xanthan gum. It will form a thick purée.
Using a small offset spatula, spread it onto the cut-out acetate pieces in a thin, even layer.
Place each piece inside the dehydrator set to 65°C/ 150°F. Let dry for at least 8 hours or overnight. These can be kept in the dehydrator for up to 2 days. After 2 days, they become very hard to handle and excessively brittle.