Appears in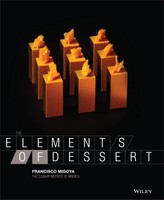 Ingredients
Almond paste 320 g 11.29 oz 32.65%
Salted Peanut Butter 80 g 2.82 oz 8.16%
Eggs 250 g 8.82 oz 25.51%
Invert sugar 35 g 1.23 oz 3.57%
All-purpose flour 60 g 2.12 oz 6.12%
Butter, melted but cool 110 g 3.88 oz 11.22%
Virginia peanuts, toasted and coarsely chopped 125 g 4.41 oz 12.76%
Method
Follow the method for the black sesame Genoa bread. Add the Virginia peanuts at the end of the mixing process.
Once the cake has cooled, cut it into rectangles measuring 2 cm/.75 in wide by 15 cm/6 in long by 5 mm/.25 in high.
Reserve in the refrigerator in an airtight container. Discard after 3 days.