Appears in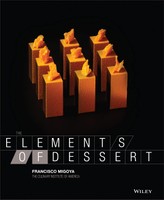 Ingredients
Infused Cream
Rye bread (seedless) 900 g 1 lb 15.68 oz 27.27%
Heavy cream 2.4 kg 5 lb 4.64 oz 72.73%
Inclusion
Infused Cream 1.2 kg 2 lb 10.24 oz 60%
Gelatin, sheets, silver, bloomed in cold water, excess water squeezed off 24 g .85 oz 1.2%
Heavy cream 760 g 1 lb 10.72 oz 38%
Heavy cream stabilizer, liquid 16 g .56 oz .8%
Method
For the infused cream: Dice the rye bread and toast it in a 160°C/325°F oven until golden brown. Make sure to use rye bread without caraway seeds.
Meanwhile, bring the heavy cream to a simmer.
Stir the hot toasted rye bread into the hot cream. Let steep for 10 minutes.
Strain the cream as much as possible and then blend the resulting cream with a Ber (immersion) mixer. Pass through cheesecloth; discard any leftover bread.
Cool in an ice water bath and proceed with the cream inclusion.
For the inclusion: Line a sheet pan with a nonstick rubber mat. Using caramel bars (heavy stainless-steel bars), create a square frame that measures 28 cm/11 in on each side by 2.5 cm/1 in deep.
Make the cream according to the aerated desserts method. The stabilizer must be added to the heavy cream before it is whipped.
Pour the resulting cream into the prepared frame and even out the top. Freeze to harden.
Once hardened, remove the frame, remove the mat, and cut the cream into 4 equal-size squares using a hot knife.
Reserve frozen until ready to assemble the cake.