Appears in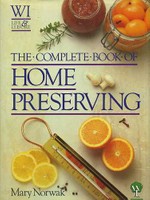 This pack can be used for fruit for use in pies, puddings and jams, or for people on a sugar-free diet. It should not be used for fruit which discolours badly during preparation, as sugar helps to retard the action of the enzymes which cause darkening.
To pack fruit by this method, wash and drain and pack into boxes or bags. Do not use excess water in cleaning the fruit. Seal and freeze and label carefully. For an unsweetened pack, it is better to open-freeze fruit. Spread it out on metal or plastic trays for fast freezing. When frozen, pour into polythene bags or boxes for storage.
© 1978 Mary Norwak estate. All rights reserved.