Appears in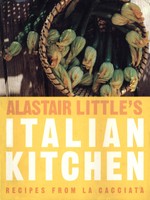 The following salads are salads in the chef sense rather than in the mixed leaf sense. They make perfectly good lunch dishes or starters. Most Italians will cheerfully sit down to two three-course meals a day, but I've had the greatest difficulty in persuading the guests at La Cacciata that this is a good thing for their figures. Frequently lunch will be a light pasta, and one of these dishes, with fruit or cheese to follow.
The idea of a mixed salad seems alien to Italian cooking. If you order a salad in a restaurant, you will normally be served cos lettuce with olive oil and lemon. Jolly nice too. Because of the seasonality of the Italian vegetable markets, you rarely see a vast range of mixed designer leaves. Only one of the leaves will be in season, and sold at a time, and that is what will be served.
The small peasant stalls in Orvieto market do, however, sell selections of rather bitter wild and cultivated leaves under the general heading of cicoria. These are a bit of an acquired taste, but I find them delicious.
© 1996 Alastair Little. All rights reserved.