Appears in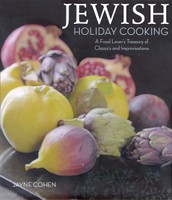 Slathered on blintzes and onion-laced herring, spooned over strawberries, whisked into fruit soup, Jewish food can be extravagant with thick, luscious sour cream.
Delicious? Yes. Fattening? Absolutely. But real sour cream is a sensational splurge.
"And her face always looked strained and worried, as if her shipload of sour cream had just sunk."

—I. L. Peretz, "In the Mail Coach"
And there are alternatives. You can substitute reduced-fat sour cream. But personally, I tend to stay away from most such products—either the taste itself is strange or the ingredients list contains too many weird, unwholesome additives. I'd rather eat the real stuff, just less frequently. And between times, I use the Sephardi counterpart made of drained yogurt, sometimes referred to as yogurt cheese, here called yogurt cream.
Many cookbooks claim plain yogurt is a good alternative to sour cream. It is not: it's watery and flat-tasting. But when most of the liquid whey is removed, the sweet, tangy flavors become more concentrated and the yogurt develops more body. Then even plain low-fat and nonfat yogurts can taste rather creamy and make a perfectly acceptable substitute for sour cream where fat is not essential to the dish. And sometimes the tart clean taste of yogurt cream actually works better than sour cream in a dish such as Sautéed Chive Mamaliga with Feta-Scallion Sauce.
Labneh, Middle Eastern drained yogurt, usually made from whole milk or cream, is a sensuous treat. The most delicious labneh I ever tasted was made by a Palestinian New Yorker, who used equal parts of half-and-half (or light cream) and whole milk. Eating it was bliss. Prepared labneh can be bought in Middle Eastern markets, many specialty stores and supermarkets. Substitute it for either sour cream or yogurt cream in any recipe.
For a rich-tasting yogurt cream, use whole-milk yogurt. Or for the best of the Ashkenazi and Sephardi worlds, stir a spoonful or two of sour cream into thick yogurt cream made from whole or low-fat milk.
To Prepare Yogurt Cream: Line a strainer or colander with uncolored paper towels or a double thickness of cheesecloth. Or place a coffee filter in the drip funnel of a coffeemaker like Melitta or Chemex. Spoon in whole-milk, low-fat, or nonfat yogurt. Set strainer, colander, or funnel over a bowl or cup to catch the liquid whey, and let drain in a cool place until the yogurt is as thick and creamy as desired, from 30 minutes to 2 hours or more. (One quart, 4 cups yogurt, will yield about 2 cups yogurt cream.)
Tangy yogurt cream lends itself to many seasonings: honey or maple syrup and finely chopped dates, vanilla, or fragrant spices for a sweet taste; garlic mashed to a paste with salt, dried mint, fresh dill, etc., for a fresh, savory flavor.
If you allow the yogurt to continue to drain for about 24 hours, it becomes a wonderful soft yogurt cheese. Season the cheese with a few drops of extra virgin olive oil, salt, and either garlic or fresh herbs or both.
Store covered in the refrigerator for up to 1 week.
© 2008 Jayne Cohen. All rights reserved.