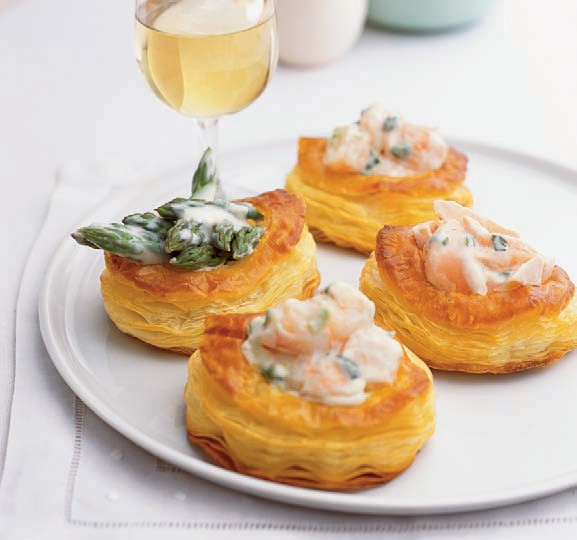 Appears in

Ingredients
250 g (9 oz) block ready-made puff pastry, thawed
1 egg, lightly beaten
Sauce and Filling
40 g (1½ oz) butter
2 spring onions (scallions), finely chopped
2 tablespoons plain (all-purpose) flour
375 ml (13 fl oz/1½ cups) milk
your choice of filling (see Note)
Method
Preheat the oven to 220°C (425°F/Gas 7). Line a baking tray with baking paper. Roll out the pastry to a 20 cm (8 inch) square. Cut four circles of pastry with a 10 cm (4 inch) cutter. Place the rounds onto the tray and cut 6 cm (2½ inch) circles into the centre of the rounds with a cutter, taking care not to cut right through the pastry. Place the baking tray in the refrigerator for 15 minutes.
Using a floured knife blade, 'knock up' the sides of each pastry round by making even indentations about 1 cm (½ inch) apart around the circumference. This should allow even rising of the pastry as it cooks. The dough can be made ahead of time up to this stage and frozen until needed. Carefully brush the pastry with the egg, avoiding the 'knocked up' edge, as any egg glaze spilt on the sides will stop the pastry from rising.
Bake for 15–20 minutes, or until the pastry has risen and is golden brown and crisp. Cool on a wire rack. Remove the centre from each pastry circle and pull out and discard any partially cooked pastry from the centre. The pastry can be returned to the oven for 2 minutes to dry out if the centre is undercooked. The pastry cases are now ready to be filled with a hot filling before serving.
To make the sauce, melt the butter in a saucepan, add the spring onion and stir over low heat for 2 minutes, or until soft. Add the flour and stir for 2 minutes, or until lightly golden. Gradually add the milk, stirring until smooth. Stir constantly over medium heat for 4 minutes, or until the mixture boils and thickens. Season well. Remove and stir in your choice of filling.