Appears in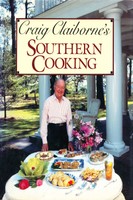 Ingredients
1 tablespoon butter
¼ cup finely chopped onion
½ teaspoon finely chopped garlic
¾ cup finely chopped mushrooms, including stems
¼ cup crabmeat, preferably lump or backfin
3 tablespoons heavy cream
1 tablespoon finely chopped parsley
Salt to taste, if desired
Freshly ground pepper to taste
⅛ teaspoon grated nutmeg
2¼ cups Basic Cream Sauce
¼ cup grated Parmesan cheese
Method
Preheat the oven to 400 degrees.
Heat the butter in a saucepan and add the onion and garlic. Cook briefly until the onion is wilted. Add the mushrooms and cook until wilted. Add the crabmeat, cream, sieved yolks, parsley, salt, pepper, and nutmeg. Stir briefly to blend.
Stuff the egg whites with the crab mixture. Arrange the eggs neatly on a heatproof serving dish. Spoon the cream sauce over them and sprinkle with cheese. Bake briefly until heated through. If desired, run the eggs under the broiler to glaze lightly. Serve hot as a first course.