Appears in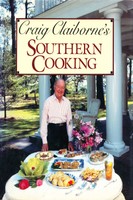 Ingredients
1 pound fresh lump crabmeat
5 tablespoons butter
2 tablespoons flour
1¼ cups milk
¼ cup heavy cream
Salt to taste, if desired
Freshly ground pepper to taste
⅛ teaspoon freshly grated nutmeg
2 tablespoons Cognac
¼ cup white vinegar
8 eggs
Paprika for garnish
Method
Carefully pick over the crabmeat to remove any cartilage or shells. Leave the crab pieces in the largest lumps possible. Set aside.
Heat 1 tablespoon butter in a saucepan and add the flour, stirring with a wire whisk. When blended, add the milk, stirring rapidly with the whisk. When thickened and smooth, stir in the cream. Add salt, pepper, and nutmeg. Stir in the Cognac.
Meanwhile, in another saucepan, heat the remaining 4 tablespoons butter over low heat and add the crab. Gently fold the crabmeat in the butter until it is hot throughout. Do not cook the crab, simply heat it through.
Bring about 1½ inches of water to the simmer in a skillet, preferably a nonstick skillet. Add the vinegar.
Carefully break the eggs into the simmering water and cook until the whites are firm and the yolks are still liquid (2½ to 3 minutes). Using a slotted spoon, carefully scoop out the eggs and let them drain on paper towels.
Place about one-eighth of the crabmeat in each of 4 preheated gratin dishes or small, individual casseroles. Top each serving with 2 poached eggs. Spoon equal portions of the remaining crabmeat over the poached eggs, and spoon equal portions of the hot cream sauce over each serving. Sprinkle lightly with paprika. Serve hot.